Welcome to my website.
Tracing the Moon has taken me 6 years to write and I am so happy to be able to share it with you. I hope that it will give you an intimate look at my own life journey, and also that of India in her many guises. Sadhus, places of pilgrimage, and my Guru Papaji, who brought so much light to so many.


On this page is a slide show of photos, some of which are included in the book, but many could not be. They will give you a little taste of what and who you will find in Tracing the Moon.

In the footer of the pages you can find a full movie about Papaji, so you can experience something of this man to whom I am deeply and eternally grateful. I first met him in February 1992, and he became the main focus for my years spent in this fascinating and diverse land.

I fell in love with India and it is a land where I feel deeply at home. The sound of temples, bells and bhajans, the name of God so easily spilled in murmured prayers. It is a land where the gods mingle amidst the mundane and madness of a country heaving with life and possibilities.

I hope you enjoy Tracing the Moon as much as I did living and writing it. Please send me the thoughts and experiences it brings to you.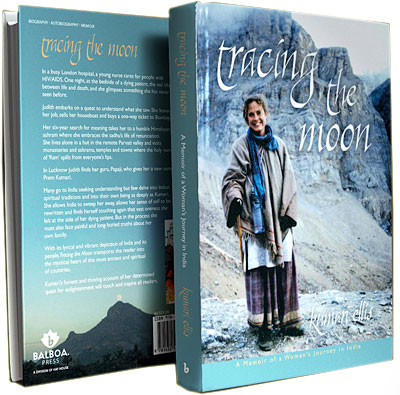 In a busy London hospital, a young nurse cares for people with HIV/AIDS. One night, at the bedside of a dying patient, the veil lifts between life and death, and she glimpses something she has never seen before.
Judith embarks on a quest to understand what she saw. She leaves her job, sells her houseboat and buys a one-way ticket to Bombay.
Her six-year search for meaning takes her to a humble Himalayan ashram where she embraces the sadhu's life of renunciation. She lives alone in a hut in the remote Parvati valley and visits monasteries and ashrams, temples and towns where the holy name of 'Ram' spills from everyone's lips.
In Lucknow Judith finds her guru, Papaji, who gives her a new name: Prem Kumari.
Many go to India seeking understanding but few delve into Indian spiritual traditions
and into their own being as deeply as Kumari.
She allows India to sweep her away, allows her sense of self to be rewritten
and finds herself touching again that vast oneness
she felt at the side of her dying patient.
But in the process she must also face painful
and long-buried truths about her own family.
With its lyrical and vibrant depiction of India and its people,
Tracing the Moon transports the reader into the mystical heart
of this most ancient and spiritual of countries.
Kumari'shonest and moving account of her determined quest
for enlightenment will touch and inspire all readers.